Tamarind is the sticky sour tasting fruit found inside large brown pods on tamarind trees. The tree is believed to be native to Africa, but it currently grows all over Asia, Mexico, and India. Before it can be used for any reason, either as a tamarind paste or tamarind puree, the fruit has to be removed from the pods and separated from the seeds.
The nature of tamarind is sticky and paste-like and so is the tamarind paste. It is a regular recipe in most of the Thai cooking, and will always feature in Pad Thai noodles as well as a variety of recipes ranging from fish to chicken dishes. There is also a variety of Indian and Mexican cuisines that rely on tamarind as the main flavor.
Making Tamarind Paste
There are various brands of ready-made tamarind paste in the Indian and Asian food stores which you can just buy and use directly in your cooking. However, you have the option of making your own tamarind paste each and every time you need to use it. The process isn't complicated at all, and it will take just a few of your cooking time.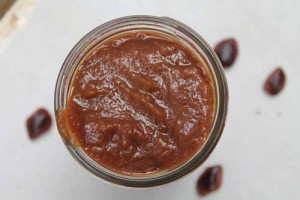 To make tamarind paste, you will need tamarind pulp, which again can be easily obtained from the Asian and Indian food stores. Once you have the bulk of pulp, cut a small piece, enough for your recipe, then soak it in a cup of hot water for about twenty minutes.
Most of the times, the pulp will not have any seeds, but there are a few times when you might find a seed or two inside the pulp. The seeds have no effects at all, and you can just remove them then throw them away.
Soaking the pulp in hot water will make it soften. Once the pulp has soaked to a considerable tenderness, drain off the water and using your fingers or a scapular, gently mash the soft tender tamarind pulp against a fine meshed strainer.
In this way, the pulp will pass through the mesh, leaving you with the fibers on another end. Continue doing so until you have the amount of tamarind enough to meet your cooking requirements. Instead of throwing away the leftover tamarind fiber, you can soak them once more in hot water and let it cool for your home version of tamarind juice.
Cooking tamarind pastes recipes
You don't have to be a native Indian or come from Thailand to be a pro in cooking with tamarind paste. Just to let you know, tamarind paste can be used in virtually any recipe where you need a unique taste of sourness and briskness. The amount of paste you use however will be determined by the strength as well as the thickness of the paste and these again, will depend on the brand of the tamarind paste you bought.
Most of the recipes will require you to use tamarind paste in conjunction with other ingredients, but you can also use the paste in chutneys and uncooked dips. Some of the recipes you may want to try with tamarind paste include Tamarind Chicken Stir Fry, Pad Thai Chicken, Thai Tamarind Fish, Tamarind Shrimp Stir Fry and Thai Fry or Grilled Fish.
Get in Touch