Tamarind candy is a special type of candy made from fruits from the tamarind tree. Tamarind is indigenous to the East Africa region but is currently widely grown in Asia, India and South America where other than being used to make candies, it is also used to make tamarind paste and sauces for a wide variety of cuisines.
Tamarind candy has a characteristic sweet and sour taste, and they can be obtained from specialty food stores, especially those dealing with foods from Asia and India. The candy is always described as chewy, more like the normal chewing gum and sold in small containers with each piece coated with sugar.
Not everyone will savor the taste of tamarind candy. Those who don't like it will complain about its chewy nature and the fact that it is very sour. Other on the other hand may not like it due to its combination of various flavors which have then been blended into one. Others yet find the candy to be tangy and spicy thus not appealing to their taste buds. With some types of the candy, you will find them with seeds and strand of the fruits fiber, thus making them less appealing to some people.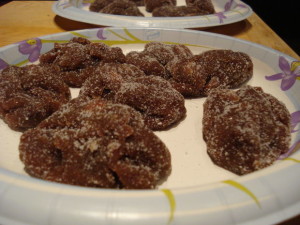 However, there is a good number of people who enjoy tamarind candy. In most cases, such people usually prefer to make the candies at home rather than purchase the already packed candies from the specialty stores. The process of making the candy is not complicated at all and won't take a lot of time if you have the ingredients and you know the right procedure.
To make the tamarind candies at home, you will need tamarind paste, chili powder, brown sugar, confectioner's sugar, salt and some water. You will be then required to mix all the ingredients together, boil them together, stirring occasionally to ensure that they are mixed properly. After the mixture attains the desired thickness, it is taken from the fire and placed in the refrigerator for several hours to cool.
Once this is done, the whole mass of cooled candy can be broken down to candy sized pieces then rolled in sugar to complete the candy making process. In case you don't have tamarind paste for the candy, you can use tamarind fruits, only that you will have to spend some time in making the paste from the fruits.
Nutritional Facts of Tamarind Candy
By nutrition, tamarind candies are just as nutritious as any other candy, and they may have additional health benefits owing to the natural benefits of tamarind fruits. Here are some nutritional facts about typical candies made from tamarind fruits-:
Calories – Tamarind candies are low-calorie candies. Five normal-sized tamarind candies contain about 60 calories. This is considered low when compared to a piece of Brach's fruit chew candy and Hershey's chocolate bar which contains 150 calories and 270 calories respectively. Being a less energy dense candy compared to the rest, tamarind candy would be an ideal choice if you are looking for healthy snacks to help you lower your intake of calories.
Carbohydrates – the calories from tamarind candies are mainly derived from its carbohydrates content. One candy contains about 3g of carbohydrates, 4g of sugar and 1g of fiber. Even though tamarind has its natural sugar, some sugars are also added during the preparation process. You should, however, have in mind that foods with artificial or added sugars usually have low nutritional value but tamarind candies are just okay owing to the immense health benefits tamarind fruits have.
Fats and Proteins – You will love the fact that tamarind candies are fat free and only contains one gram of protein for every serving of five candies. Fats are normally used to provide energy in the body and also aid in the absorption of fat-soluble vitamins. Proteins, on the other hand, are necessary for growth and muscle development. You may not thus get of these when you take tamarind candies.
Sodium – in the preparation of tamarind candy, salt is added and this introduces some sodium into the candy, though very minimal levels. It will surprise you to learn that five tamarind candies have about 40mg of sodium in total. This makes tamarind candies to fall into the category of low-sodium foods since it has less than 140mg per serving.
Mineral – tamarind candies are also rich in certain minerals such as iron and calcium. Iron is crucial for transportation of oxygen in the body while calcium is needed for the growth of strong and healthy bones.
Evidently, tamarind candies contain all the components needed for a good nutrition as far as candies are concerned. Whether you are looking to lose weight or you need an energy-packed snack to stop you from binging and adding more weight, tamarind candies will provide you with the ideal choice.