What is Tamarind Paste?
Tamarind paste is a common ingredient usually featured in the preparation of a myriad of delicacies around the world. The paste is prepared from tamarind – a sticky sour tasting fruit that grows on bean-like pods on tamarind trees. It is believed that Tamarind originated from Asia though the fruit has been proven to grow in virtually all the tropical areas including Africa, Mexico and India. If you are a fan of Thai delicacies, then you've probably eaten lots of meals prepared with tamarind paste given that it is one of the must-have ingredients in most, if not all of the Thai recipes especially in the savory dishes.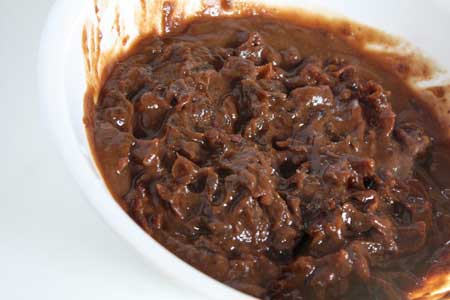 Tamarind Paste/Concentrate – Preparation and preservation
The process of preparing tamarind paste can be a tricky one, given the nature of the fruit. For the paste to be made, the fruit has to be separated from the pod and remember that each pod contains a seed. It, therefore, implies that you must have the patience to go through each and every pod and remove the seeds one after the other. To the majority, this is a tasking experience, and they prefer to purchase readymade paste from the stores.
But if you decide to make your paste, then after separating the seeds from the fruit, all you have to do is to boil the tamarind, and let it cool before storing it in an airtight container. Once it has cooled down, it will somewhat resemble molasses, and this is your tamarind paste, ready for use in cooking.
Where to Buy Tamarind Paste
Being a predominantly Asian and Indian ingredient, there are no better places than Asian and Indian food stores to buy tamarind. But such places don't have the exclusivity of stocking tamarind paste and such like ingredients as tamarind pulp and tamarind sauce.
Of course, you are likely to find them in your local convenience stores if you have a considerable part of the population being made of Indians and Asians. There are also many online stores that deal exclusively with ingredients from different parts of the world, and you will be lucky to find the paste in such places.
Tamarind Paste Substitute
Do you stop proceeding with your recipe when you realize that tamarind paste is one of the ingredients, but unfortunately, you don't have any of it? Absolutely not! Just like with every other ingredient, there is always a substitute that can be used in case the main ingredient is not available.
The funny thing with tamarind paste, however, is that it has a distinct sour test with a unique briskness that isn't possessed by any other ingredient. A tamarind paste substitute must, therefore, have near-similar tastes if it is to be used effectively as a substitute.
Of all the ingredients that can be used as tamarind pulp substitute, only two have ever come close to giving similar results. Hence, they are the preferred ingredients to use in case you can't get any tamarind paste. These are vinegar and lime juice. Both have the sourness and briskness like that of tamarind, but milder as compared to the real tamarind paste.
Take for example the preparation of dishes like Pad Thai Chicken. This is an example of a classic Thai recipe that will never miss tamarind paste. If the recipe needed one table spoon of tamarind paste, simply substitute that with one tablespoon of vinegar. When using lime juice, on the other hand, you will have to use two tablespoons for every one tablespoon of tamarind paste. These two will also work well as tamarind sauce substitute and tamarind pulp substitute.
It is, however, important to note that none of these substitutes will work well if tamarind happened to be the number one flavor of the recipe. For instance, in the preparation of Thai Tamarind Fish, there is simply no substitute for tamarind since doing so tantamount to changing the entire menu.
In such a case, you will have to hunt down tamarind paste until you find it. If you are unable to get it in time, then you can use variations of tamarind flavor like tamarind sauce, tamarind puree or tamarind pulp.
Tamarind Pulp
Tamarind pulp is prepared from tamarind fruit pods whose husks have been removed and compressed tightly together. Tamarind pulp can be obtained from most of the Asian and Indian food stores or even in your local convenience stores. In most of the cases, tamarind pulp will not have seeds, but don't be surprised to find some errant seeds present within the pack. You will find the pulp to be very fibrous, and you will have to soften it by placing in warm water before you are to use it in your cooking.
Tamarind paste is indeed an awesome ingredient which you can use in a variety of dishes and not just Indian and Asian cuisines alone. You can get creative with it and try it in various foods, so long as you don't forget that it is very sour and using a lot of it can easily ruin your meal.
Get in Touch