What is Tamarind Sauce?
Tamarind is the deliciously tart and highly valued natural ingredient in South Asia. The melodious name originates from Persian Tamar-l-hind loosely translated to the "Indian date". Originally from the East African region, tamarind is now widely grown on a commercial basis in India, Asia, and Mexico amongst other places in the world.
The tamarind paste is a highly coveted ingredient in most of the Southeast Asia recipes, and it is a product made directly from the tamarind fruits. Once the tamarind is harvested, they can be shelled and packed in special packages for export. Or they can be processed into other tamarind products such as the tamarind sauce, tamarind juice or tamarind candy.
Where to get Tamarind Sauce
With the increasing popularity of tamarind across the globe, tamarind sauce and other tamarind products are now available in supermarkets and other large food stores. The surest places, however, where you are guaranteed to find tamarind sauce are specialty food stores dealing in Asian and Indian foods. But certain people would like to use tamarind sauce without having to purchase the already manufactured ones from the stores.
One option of doing so is to prepare the sauce at home. If you can get the right amount of tamarind pulp, preparing the sauce is a fairly easy task which will take just a couple of your cooking time. You will also be guaranteed of getting very fresh sauce devoid of any preservative, thus tasting deliciously graceful in your meals.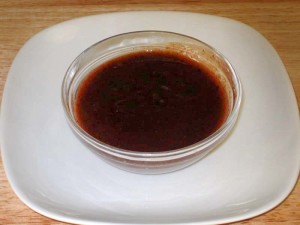 How to Make Tamarind Sauce at Home
If you prefer to make your tamarind sauce at home, here is a simple guide to help you through the preparation process-:
Take about ten ounces of tamarind pulp then soak in a pan of hot water for about twenty minutes. This is to make the tamarind pulp soft and help you separate the pulp from any fruits that might have been present in the pulp.
Once the pulp has softened, use a spoon to break it up before straining through a sieve, while pressing the pulp against the sieve to extract as much water as possible. Discard the remaining pulp and the seeds while retaining the rest of the content on the pan.
Add ginger, four tablespoons sugar, fish sauce, garlic-chilli sauce, and soy sauce then mix well before boiling all the contents of the pan. Allow it to simmer for about five minutes while stirring frequently.
Remove the pan from the fire and let it cool down. For additional flavor and to make the sauce thicker, add cornstarch to the sauce and whisk until it reaches the desired thickness. Once done, you can use the sauce immediately or store it in an air tight container for future use.
Tamarind Substitutes
What happens if you need to use tamarind sauce, but you are unable to find it in the supermarkets or the specialty stores around? Well, no need to lose your sleep over it since there is a couple of items you can easily use as tamarind sauce substitutes. It is true that these will not give the authentic tamarind taste, but their sourness will give a similar tart taste like that of real tamarinds. Here are four substitutes you could use in case you are unable to find tamarind sauce-:
Amchoor Powder
This is an Indian ingredient made by cutting and sun drying small pieces of green mango before crushing them into a fine powder. Since green mangoes are unripe, they have the sour taste characteristic of tamarind, and this is why they can be used in the place of tamarind sauce.
Dried Fruits
A mixture of dried fruits such as lemon, apricots, dates, and prunes can also be crushed together and used as a substitute for tamarind sauce.
Vinegar and Sugar
A mixture of vinegar and sugar can also be used as awesome substitutes for tamarind sauce if you take your time and go through the preparation process carefully.
Health Benefits of Tamarind Sauce
Other than being a delicious cooking ingredient revered in Southeast Asia and India, there is a horde of health benefits that comes with using tamarind sauce or consuming tamarind products altogether. These include but are not limited to the following-:
Digestive health – tamarind is a natural laxative with a lot of dietary fiber that helps to increase the efficiency of the digestion system. It also stimulates the production of bile juice which in turn leads to faster and efficient breakdown of food during digestion.
Heart Health – Studies indicate that tamarind is efficient in reducing the blood pressure and blood sugar, all of which are vital to the proper functioning of the heart.
Weight Loss – Tamarind has high amounts of hydroxy citric acid which is responsible for inhibiting the enzymes from storing fat in the body cell thus aiding in weight loss.
Anti-inflammatory – Tamarind also has anti-inflammatory capabilities which help in easing joint pains, inflammations, gout, rheumatic conditions, and arthritis.
These are some of the health benefits that come with tamarind on a regular basis, and you can also benefit from them when to use tamarind sauce on a regular basis.