A tamarind, also known as Indian date or Tamarindo refers to a brown pod-shaped fruit from the African tamarind tree. Tamarind can be used in cooking as fresh or dry but will in most cases be available as concentrated pulp or can be further processed into tamarind concentrate. Tamarind concentrate is also known as tamarind paste and is has a sweet flavor with a sourness slightly stronger than that of a lemon juice.
A normal tamarind concentrate is prepared from fresh tamarind pulp that has been pureed with water, sugar and a little salt. Tamarind concentrates are low in fat and proteins but have high amounts of carbohydrates. A typical teaspoon of tamarind concentrate will contain about four calories and is highly enriched with B vitamins such as thiamine which makes it a good ant-inflammatory.
How to Use Tamarind Concentrate
Tamarind is traditionally used for adding a sour taste in most of the Southeast Asian recipes. Thai and Indian dishes, for instance, will always feature tamarind as part of the recipes. For your home use, you can use tamarind concentrate to balance the sweetness in the spices you use, add depth of flavor to a curry, or use it in seasoning pad Thai cuisines.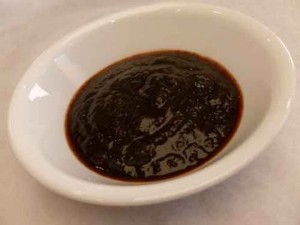 Other than these, tamarind concentrate is also used to flavor Worcestershire sauce in addition to being used in preparing homemade barbecue sauces or poultry and meat marinades.
You are also free to dissolve a small amount of tamarind concentrate on your drinking water for your homemade tamarind juice.
Make Your Own Tamarind Concentrate
Tamarind concentrates can be easily found in Asian and Indian food markets. You can also find them in large grocery stores in the international foods sections and through online retailers. But if you can't find tamarind concentrate and you are in great need of it, it is always easy to prepare your own concentrate at home.
All you need is a tamarind pod or a block of tamarind pulp purchased from the stores. Soak the pods or the block of pulp in warm water for about twenty minutes. Then mesh up the pulp, drain the water before pressing the mixture against a fine mesh sieve. The strained pieces of the fruit will pass through the sieve, giving you a fine and tender concentrate while the fiber will remain on the other side of the sieve.
Substitution for Tamarind Concentrates
If you can't find tamarind concentrate or make one on your own yet you are in urgent need for some, just like with every other ingredient, you can find substitutes for it. Cooking experts recommend that you can use a mixture of rice vinegar, lime juice or white wine vinegar with an equal part of light brown sugar.
Additionally, a mixture of dried apricots and chopped dates together with lemon juice can also be used to get that sweet and sour flavor in the absence of tamarind concentrate. Finally, a mixture of lemon juice and amchur powder can also be used as alternatives to tamarind concentrate.
Try out tamarind concentrate in your dishes today and you will understand why it is a must-have ingredient for most of the Indian and Southeast Asia recipes.
Get in Touch